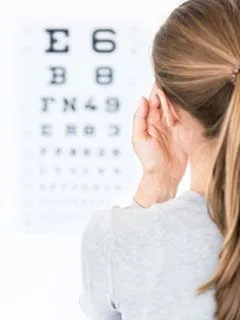 At Arkansas Eye Care Group, Dr. Shane Ford and our entire Conway optometry team are committed to providing advanced vision care in a professional and comfortable environment. As an optometrist in Conway, our primary eye care service includes a complete eye exam that analyzes eye health and vision function. In addition to eye exams and vision testing, Dr. Ford and our team of optometry professionals provide testing for glaucoma, cataracts and macular degeneration. Our Conway optometrist also offers glasses, contact lenses, and pre- and post-operative care.
Examinations
Our doctors are experienced in everything from routine wellness exams, difficult contactlens fittings, and the diagnosis and medical treatment of eye disease. If we find your particular condition requires surgical care, we work with the best sub-specialists in eye surgery to get you the care you need.
Tailored for your unique needs and health problems - During your examination, we look at every aspect of both your vision and your eye health. We will always take time to address all your questions and concerns. If you ever have the need, we provide emergency eye care 7 days a week.
Eye Exams
Dr. Ford and the Arkansas Eye Care Group team take even routine eye exams very seriously. During a yearly or bi-yearly examination, our Conway patients will receive a patient history review, a series of vision and eye tests, assessments of eye focusing and movement, and an eye health evaluation. Our optometrist will discuss any additional testing that may be required to diagnose an eye disease or condition. Call us a today at (501) 329-9851 to schedule an appointment.
Contact Lenses
Not sure that glasses are for you? Ask our Conway staff about contact Lenses. Advances in the field of optometry have produced a variety of different types of contact lenses with a range of benefits. Rigid gas-permeable (RGP), daily-wear soft, extended-wear, extended-wear disposable, and planned replacement are the various types of contact lens options available today. Our Conway optometrist will discuss the various options with you to determine which type will best fit your needs and lifestyle. Schedule your examination today by calling (501) 329-9851. They are many advantages to consider when determining if contact lenses are right for you and our knowledgeable staff is here to answer any questions.
Surgical
Our doctors perform minor surgical procedures such as foreign body removal in the office. We also perform all pre-operative and post-operative surgical care for all types of surgeries including cataract, refractive, retinal, and glaucoma. When your condition warrants surgical treatment, we have an established, reputable network of eye surgeons from which to refer you.
Low Vision
Dr. Ford has a special interest in low vision rehabilitation for those who have suffered substantial vision loss. He has cared for patients from all over the state. He works with a host of other professionals such as family physicians, occupational therapists, and low vision consultants to help you gain more control over your vision loss and better utilize your existing vision. There is nearly always some optical aid that could enhance the patient's quality of life.
Lasik
Laser assisted in situ keratomileusis, commonly referred to as LASIK, is a corrective alternative to glasses or contact lenses. Like glasses or contact lenses, LASIK is a method for treating refractive conditions including nearsightedness (myopia), farsightedness (hyperopia), and astigmatism. At Arkansas Eye Care Group, Dr. Ford provides pre- and post-operative exams for LASIK and other eye procedures. Call (501) 329-9851 today to schedule an examination to see whether you are a candidate for LASIK.